{"id":140714770462,"title":"Debowler Glass Ashtray","handle":"debowler-glass-ashtray","description":"\u003cp\u003eIntroducing the new Glass Debowler Ashtray. This ashtray is perfect for any smoker using any type of hand pipe. The Glass Debowler features a built in removable glass poker for easy cleaning of pipes and pieces. The built in poker is sturdy in the middle of the ashtray so that all discarded ash is emptied into the ashtray with no mess. Made with high quality glass and available in several colors.\u003c\/p\u003e\n\u003cul\u003e\n\u003cli\u003ePerfect for Emptying Pipes\u003c\/li\u003e\n\u003cli\u003eBuilt in Removable Glass Poker\u003c\/li\u003e\n\u003cli\u003eAvailable in Several Colors\u003c\/li\u003e\n\u003cli\u003eDiameter: 5\"\u003c\/li\u003e\n\u003c\/ul\u003e","published_at":"2017-10-03T12:10:08-05:00","created_at":"2017-10-03T12:16:29-05:00","vendor":"Debowler","type":"Ashtrays","tags":["Brand_Debowler","Color_Black","Color_Blue","Color_Green","Color_Pink","Color_Purple","Features_Made in USA","Material_Glass","Parts \u0026 Accessories","Price_$25-$50","Product Type_Ashtrays","retail","Smoking Gear","Vendor_AFG","w40"],"price":2650,"price_min":2650,"price_max":2650,"available":false,"price_varies":false,"compare_at_price":null,"compare_at_price_min":0,"compare_at_price_max":0,"compare_at_price_varies":false,"variants":[{"id":1818675347486,"title":"Aqua","option1":"Aqua","option2":null,"option3":null,"sku":"AT539-AQ","requires_shipping":true,"taxable":true,"featured_image":{"id":13597136388198,"product_id":140714770462,"position":2,"created_at":"2019-12-08T02:36:09-06:00","updated_at":"2022-01-18T18:11:36-06:00","alt":"Debowler Glass Ashtray - SMOKEA®","width":1024,"height":1280,"src":"https:\/\/cdn.shopify.com\/s\/files\/1\/1752\/6725\/products\/debowler-glass-ashtray-aqua-576135397406.jpg?v=1642551096","variant_ids":[1818675347486]},"available":false,"name":"Debowler Glass Ashtray - Aqua","public_title":"Aqua","options":["Aqua"],"price":2650,"weight":454,"compare_at_price":null,"inventory_quantity":0,"inventory_management":"shopify","inventory_policy":"deny","barcode":"","featured_media":{"alt":"Debowler Glass Ashtray - SMOKEA®","id":5771935711334,"position":2,"preview_image":{"aspect_ratio":0.8,"height":1280,"width":1024,"src":"https:\/\/cdn.shopify.com\/s\/files\/1\/1752\/6725\/products\/debowler-glass-ashtray-aqua-576135397406.jpg?v=1642551096"}},"requires_selling_plan":false,"selling_plan_allocations":[],"quantity_rule":{"min":1,"max":null,"increment":1}},{"id":1818675445790,"title":"Black","option1":"Black","option2":null,"option3":null,"sku":"AT539-BK","requires_shipping":true,"taxable":true,"featured_image":{"id":13597127016550,"product_id":140714770462,"position":4,"created_at":"2019-12-08T02:33:23-06:00","updated_at":"2022-01-18T18:12:36-06:00","alt":"Debowler Glass Ashtray - SMOKEA®","width":1024,"height":1280,"src":"https:\/\/cdn.shopify.com\/s\/files\/1\/1752\/6725\/products\/debowler-glass-ashtray-black-576145981470.jpg?v=1642551156","variant_ids":[1818675445790]},"available":false,"name":"Debowler Glass Ashtray - Black","public_title":"Black","options":["Black"],"price":2650,"weight":454,"compare_at_price":null,"inventory_quantity":0,"inventory_management":"shopify","inventory_policy":"deny","barcode":"","featured_media":{"alt":"Debowler Glass Ashtray - SMOKEA®","id":5771926339686,"position":4,"preview_image":{"aspect_ratio":0.8,"height":1280,"width":1024,"src":"https:\/\/cdn.shopify.com\/s\/files\/1\/1752\/6725\/products\/debowler-glass-ashtray-black-576145981470.jpg?v=1642551156"}},"requires_selling_plan":false,"selling_plan_allocations":[],"quantity_rule":{"min":1,"max":null,"increment":1}},{"id":1818675544094,"title":"Green","option1":"Green","option2":null,"option3":null,"sku":"AT539-GN","requires_shipping":true,"taxable":true,"featured_image":{"id":13597127671910,"product_id":140714770462,"position":3,"created_at":"2019-12-08T02:33:39-06:00","updated_at":"2022-01-18T18:12:19-06:00","alt":"Debowler Glass Ashtray - SMOKEA®","width":1024,"height":1280,"src":"https:\/\/cdn.shopify.com\/s\/files\/1\/1752\/6725\/products\/debowler-glass-ashtray-green-576142376990.jpg?v=1642551139","variant_ids":[1818675544094]},"available":false,"name":"Debowler Glass Ashtray - Green","public_title":"Green","options":["Green"],"price":2650,"weight":454,"compare_at_price":null,"inventory_quantity":0,"inventory_management":"shopify","inventory_policy":"deny","barcode":"","featured_media":{"alt":"Debowler Glass Ashtray - SMOKEA®","id":5771926995046,"position":3,"preview_image":{"aspect_ratio":0.8,"height":1280,"width":1024,"src":"https:\/\/cdn.shopify.com\/s\/files\/1\/1752\/6725\/products\/debowler-glass-ashtray-green-576142376990.jpg?v=1642551139"}},"requires_selling_plan":false,"selling_plan_allocations":[],"quantity_rule":{"min":1,"max":null,"increment":1}},{"id":6765800292382,"title":"Purple","option1":"Purple","option2":null,"option3":null,"sku":"AT539-PR","requires_shipping":true,"taxable":true,"featured_image":{"id":13597122494566,"product_id":140714770462,"position":5,"created_at":"2019-12-08T02:32:05-06:00","updated_at":"2022-01-18T18:14:21-06:00","alt":"Debowler Glass Ashtray - SMOKEA®","width":1024,"height":1280,"src":"https:\/\/cdn.shopify.com\/s\/files\/1\/1752\/6725\/products\/debowler-glass-ashtray-purple-1869304135710.jpg?v=1642551261","variant_ids":[6765800292382]},"available":false,"name":"Debowler Glass Ashtray - Purple","public_title":"Purple","options":["Purple"],"price":2650,"weight":454,"compare_at_price":null,"inventory_quantity":0,"inventory_management":"shopify","inventory_policy":"deny","barcode":"","featured_media":{"alt":"Debowler Glass Ashtray - SMOKEA®","id":5771921817702,"position":5,"preview_image":{"aspect_ratio":0.8,"height":1280,"width":1024,"src":"https:\/\/cdn.shopify.com\/s\/files\/1\/1752\/6725\/products\/debowler-glass-ashtray-purple-1869304135710.jpg?v=1642551261"}},"requires_selling_plan":false,"selling_plan_allocations":[],"quantity_rule":{"min":1,"max":null,"increment":1}},{"id":6765802422302,"title":"Ruby","option1":"Ruby","option2":null,"option3":null,"sku":"AT539-RB","requires_shipping":true,"taxable":true,"featured_image":{"id":13597120036966,"product_id":140714770462,"position":6,"created_at":"2019-12-08T02:31:31-06:00","updated_at":"2022-01-18T18:14:37-06:00","alt":"Debowler Glass Ashtray - SMOKEA®","width":1024,"height":1280,"src":"https:\/\/cdn.shopify.com\/s\/files\/1\/1752\/6725\/products\/debowler-glass-ashtray-ruby-1869304561694.jpg?v=1642551277","variant_ids":[6765802422302]},"available":false,"name":"Debowler Glass Ashtray - Ruby","public_title":"Ruby","options":["Ruby"],"price":2650,"weight":454,"compare_at_price":null,"inventory_quantity":0,"inventory_management":"shopify","inventory_policy":"deny","barcode":"","featured_media":{"alt":"Debowler Glass Ashtray - SMOKEA®","id":5771919360102,"position":6,"preview_image":{"aspect_ratio":0.8,"height":1280,"width":1024,"src":"https:\/\/cdn.shopify.com\/s\/files\/1\/1752\/6725\/products\/debowler-glass-ashtray-ruby-1869304561694.jpg?v=1642551277"}},"requires_selling_plan":false,"selling_plan_allocations":[],"quantity_rule":{"min":1,"max":null,"increment":1}}],"images":["\/\/cdn.shopify.com\/s\/files\/1\/1752\/6725\/products\/debowler-glass-ashtray-576130023454.jpg?v=1642549639","\/\/cdn.shopify.com\/s\/files\/1\/1752\/6725\/products\/debowler-glass-ashtray-aqua-576135397406.jpg?v=1642551096","\/\/cdn.shopify.com\/s\/files\/1\/1752\/6725\/products\/debowler-glass-ashtray-green-576142376990.jpg?v=1642551139","\/\/cdn.shopify.com\/s\/files\/1\/1752\/6725\/products\/debowler-glass-ashtray-black-576145981470.jpg?v=1642551156","\/\/cdn.shopify.com\/s\/files\/1\/1752\/6725\/products\/debowler-glass-ashtray-purple-1869304135710.jpg?v=1642551261","\/\/cdn.shopify.com\/s\/files\/1\/1752\/6725\/products\/debowler-glass-ashtray-ruby-1869304561694.jpg?v=1642551277","\/\/cdn.shopify.com\/s\/files\/1\/1752\/6725\/products\/debowler-glass-ashtray-576150962206.jpg?v=1642551184"],"featured_image":"\/\/cdn.shopify.com\/s\/files\/1\/1752\/6725\/products\/debowler-glass-ashtray-576130023454.jpg?v=1642549639","options":["Color"],"media":[{"alt":"Debowler Glass Ashtray - SMOKEA®","id":5772693504102,"position":1,"preview_image":{"aspect_ratio":0.8,"height":1280,"width":1024,"src":"https:\/\/cdn.shopify.com\/s\/files\/1\/1752\/6725\/products\/debowler-glass-ashtray-576130023454.jpg?v=1642549639"},"aspect_ratio":0.8,"height":1280,"media_type":"image","src":"https:\/\/cdn.shopify.com\/s\/files\/1\/1752\/6725\/products\/debowler-glass-ashtray-576130023454.jpg?v=1642549639","width":1024},{"alt":"Debowler Glass Ashtray - SMOKEA®","id":5771935711334,"position":2,"preview_image":{"aspect_ratio":0.8,"height":1280,"width":1024,"src":"https:\/\/cdn.shopify.com\/s\/files\/1\/1752\/6725\/products\/debowler-glass-ashtray-aqua-576135397406.jpg?v=1642551096"},"aspect_ratio":0.8,"height":1280,"media_type":"image","src":"https:\/\/cdn.shopify.com\/s\/files\/1\/1752\/6725\/products\/debowler-glass-ashtray-aqua-576135397406.jpg?v=1642551096","width":1024},{"alt":"Debowler Glass Ashtray - SMOKEA®","id":5771926995046,"position":3,"preview_image":{"aspect_ratio":0.8,"height":1280,"width":1024,"src":"https:\/\/cdn.shopify.com\/s\/files\/1\/1752\/6725\/products\/debowler-glass-ashtray-green-576142376990.jpg?v=1642551139"},"aspect_ratio":0.8,"height":1280,"media_type":"image","src":"https:\/\/cdn.shopify.com\/s\/files\/1\/1752\/6725\/products\/debowler-glass-ashtray-green-576142376990.jpg?v=1642551139","width":1024},{"alt":"Debowler Glass Ashtray - SMOKEA®","id":5771926339686,"position":4,"preview_image":{"aspect_ratio":0.8,"height":1280,"width":1024,"src":"https:\/\/cdn.shopify.com\/s\/files\/1\/1752\/6725\/products\/debowler-glass-ashtray-black-576145981470.jpg?v=1642551156"},"aspect_ratio":0.8,"height":1280,"media_type":"image","src":"https:\/\/cdn.shopify.com\/s\/files\/1\/1752\/6725\/products\/debowler-glass-ashtray-black-576145981470.jpg?v=1642551156","width":1024},{"alt":"Debowler Glass Ashtray - SMOKEA®","id":5771921817702,"position":5,"preview_image":{"aspect_ratio":0.8,"height":1280,"width":1024,"src":"https:\/\/cdn.shopify.com\/s\/files\/1\/1752\/6725\/products\/debowler-glass-ashtray-purple-1869304135710.jpg?v=1642551261"},"aspect_ratio":0.8,"height":1280,"media_type":"image","src":"https:\/\/cdn.shopify.com\/s\/files\/1\/1752\/6725\/products\/debowler-glass-ashtray-purple-1869304135710.jpg?v=1642551261","width":1024},{"alt":"Debowler Glass Ashtray - SMOKEA®","id":5771919360102,"position":6,"preview_image":{"aspect_ratio":0.8,"height":1280,"width":1024,"src":"https:\/\/cdn.shopify.com\/s\/files\/1\/1752\/6725\/products\/debowler-glass-ashtray-ruby-1869304561694.jpg?v=1642551277"},"aspect_ratio":0.8,"height":1280,"media_type":"image","src":"https:\/\/cdn.shopify.com\/s\/files\/1\/1752\/6725\/products\/debowler-glass-ashtray-ruby-1869304561694.jpg?v=1642551277","width":1024},{"alt":"Debowler Glass Ashtray - SMOKEA®","id":5771920801894,"position":7,"preview_image":{"aspect_ratio":0.8,"height":1280,"width":1024,"src":"https:\/\/cdn.shopify.com\/s\/files\/1\/1752\/6725\/products\/debowler-glass-ashtray-576150962206.jpg?v=1642551184"},"aspect_ratio":0.8,"height":1280,"media_type":"image","src":"https:\/\/cdn.shopify.com\/s\/files\/1\/1752\/6725\/products\/debowler-glass-ashtray-576150962206.jpg?v=1642551184","width":1024}],"requires_selling_plan":false,"selling_plan_groups":[],"content":"\u003cp\u003eIntroducing the new Glass Debowler Ashtray. This ashtray is perfect for any smoker using any type of hand pipe. The Glass Debowler features a built in removable glass poker for easy cleaning of pipes and pieces. The built in poker is sturdy in the middle of the ashtray so that all discarded ash is emptied into the ashtray with no mess. Made with high quality glass and available in several colors.\u003c\/p\u003e\n\u003cul\u003e\n\u003cli\u003ePerfect for Emptying Pipes\u003c\/li\u003e\n\u003cli\u003eBuilt in Removable Glass Poker\u003c\/li\u003e\n\u003cli\u003eAvailable in Several Colors\u003c\/li\u003e\n\u003cli\u003eDiameter: 5\"\u003c\/li\u003e\n\u003c\/ul\u003e"}
FAST AND FREE SHIPPING
LOW PRICE GUARANTEE
EASY, HASSLE FREE RETURNS
GET 10% BACK IN REWARDS
Introducing the new Glass Debowler Ashtray. This ashtray is perfect for any smoker using any type of hand pipe. The Glass Debowler features a built in removable glass poker for easy cleaning of pipes and pieces. The built in poker is sturdy in the middle of the ashtray so that all discarded ash is emptied into the ashtray with no mess. Made with high quality glass and available in several colors.
Perfect for Emptying Pipes
Built in Removable Glass Poker
Available in Several Colors
Diameter: 5"
SMOKEA® proudly offers free shipping on orders to the contiguous 48 states. Packages are shipping via USPS, FedEx, UPS or DHL Express. Orders with Free Shipping can expect delivery times of 3-16 business days. Orders that pay for expedited shipping have an average shipping time of only 2-3 business days! Click here to read our full Shipping Policy.
Low Price Guarantees. While most company's have long lists of things you need to qualify to have a price matched, SMOKEA® makes it easy. Oh yeah, and we don't "match" prices we BEAT prices! Simply contact us with the information including the competitor's product listing and we'll create a coupon code for you to use to get a BETTER price. The Guarantee doesn't end when you receive a better price. If any of your ordered products drop in price within the return/exchange period, you will be given the difference in store credit upon request. The Low Price Guarantee is just another way that SMOKEA provides it's customers with the ease and convenience of getting all of your smoking supplies in one place at the best prices! Click here to read more about our low price guarantee or click the "Start Here" button below to get started.
Start Here
We hope that you will be delighted with your items however, if you would like to return your items for any reason at all, you may do so within 30 days of receiving your order. Items returned must be in a new and unused condition and are the responsibility of the customer until they are received by SMOKEA.
Click Here to Read Our Full Return Policy
Customer Reviews
Write a Review
Ask a Question
02/13/2020
Rebecca
Billings, Montana, United States
Great and safe ashtray
I bought the cheap plastic debowler ashtray and it actually caught on fire! I needed something that wouldn't **** me so I bought this glass version. This glass debowler ashtray is great. It has a more open mouth to catch more ash and will not catch on fire!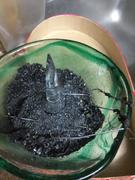 03/30/2019
Lexi
Dobbs Ferry, New York, United States
Great Ash Tray
I love this product. Very easy to clean since the middle piece comes out. I got the blue one and it is exactly like the picture. It seems very sturdy but it is made out of glass. If something ever happens to this one, I will get the same one again!