{"id":6875713273958,"title":"Headway 10\" Glass on Glass Bubble Acrylic Bong","handle":"headway-10-glass-on-glass-bubble-acrylic-bong","description":"\u003cp\u003eThe world's best acrylic bongs, Headway Acrylics, are now available in glass on glass. While traditional acrylic bongs feature a metal 9mm slide, these upgraded bongs feature a glass downstem and 14mm dry herb bowl for a more enjoyable smoking experience.\u003c\/p\u003e\n\u003cp\u003eThis Headway Bubble Bong measures 10\" in height with a 2\" mouthpiece diameter. The traditional bubble style base holds plenty of water for better filtration and holds more smoke for larger hits. The Bubble Bong features a Headway decal so you can rest assured you're only using the best acrylic available. All parts disassemble for easy cleaning.\u003c\/p\u003e\n\u003cul\u003e\n\u003cli\u003eUpgraded Glass on Glass Downstem and Bowl\u003c\/li\u003e\n\u003cli\u003eHigh Quality Acrylic Construction\u003c\/li\u003e\n\u003cli\u003e14mm Dry Herb Bowl Included\u003c\/li\u003e\n\u003cli\u003eHeadway Decal\u003c\/li\u003e\n\u003cli\u003eRemovable Parts for Easy Cleaning\u003c\/li\u003e\n\u003cli\u003eMade in USA\u003c\/li\u003e\n\u003c\/ul\u003e\n\u003ctable\u003e\n\u003ctbody\u003e\n\u003ctr\u003e\n\u003ctd\u003eBrand\u003c\/td\u003e\n\u003ctd\u003e\u003ca href=\"\/collections\/headway\" target=\"_blank\" title=\"Headway Acrylic Bongs and Pipes\" rel=\"noopener noreferrer\"\u003eHeadway\u003c\/a\u003e\u003c\/td\u003e\n\u003c\/tr\u003e\n\u003ctr\u003e\n\u003ctd\u003eMaterial\u003c\/td\u003e\n\u003ctd\u003eAcrylic, Glass\u003c\/td\u003e\n\u003c\/tr\u003e\n\u003ctr\u003e\n\u003ctd\u003eHeight\u003c\/td\u003e\n\u003ctd\u003e10\"\u003c\/td\u003e\n\u003c\/tr\u003e\n\u003ctr\u003e\n\u003ctd\u003eBase Diameter\u003c\/td\u003e\n\u003ctd\u003e3.5\"\u003c\/td\u003e\n\u003c\/tr\u003e\n\u003ctr\u003e\n\u003ctd\u003eBowl Joint\u003c\/td\u003e\n\u003ctd\u003e14mm\u003c\/td\u003e\n\u003c\/tr\u003e\n\u003ctr\u003e\n\u003ctd\u003eDownstem Joint\u003c\/td\u003e\n\u003ctd\u003e18mm Male\/14mm Female\u003c\/td\u003e\n\u003c\/tr\u003e\n\u003ctr\u003e\n\u003ctd\u003eDownstem Length\u003c\/td\u003e\n\u003ctd\u003e4\"\u003c\/td\u003e\n\u003c\/tr\u003e\n\u003c\/tbody\u003e\n\u003c\/table\u003e\n\u003cp\u003eNOTE: Headway decal may vary.\u003c\/p\u003e","published_at":"2023-09-21T14:04:33-05:00","created_at":"2023-09-21T13:58:40-05:00","vendor":"Headway","type":"Bongs","tags":["Base_Bubble","Brand_Headway","Color_Black","Color_Blue","Color_Clear","Color_Green","Color_Purple","deal","Features_Decal\/Logo","Features_Made in USA","Glass on Glass Bong","Height_Medium (8\"-14\")","Joint Size_14mm","Material_Acrylic","Non-Dropship","Pipes","Price_$10-$25","Product Type_Bongs","Vendor_Headway","w50","Water Pipes","wholesale"],"price":2429,"price_min":2429,"price_max":2429,"available":true,"price_varies":false,"compare_at_price":2699,"compare_at_price_min":2699,"compare_at_price_max":2699,"compare_at_price_varies":false,"variants":[{"id":40234256269414,"title":"Black","option1":"Black","option2":null,"option3":null,"sku":"BUB10G-BK","requires_shipping":true,"taxable":true,"featured_image":{"id":29693727604838,"product_id":6875713273958,"position":7,"created_at":"2023-09-21T14:03:43-05:00","updated_at":"2023-09-21T14:03:43-05:00","alt":"Headway 10\" Glass on Glass Bubble Acrylic Bong Black","width":1024,"height":1280,"src":"\/\/smokea.com\/cdn\/shop\/files\/headway-10-glass-on-glass-bubble-acrylic-bong-black-29693726851174.jpg?v=1695323023","variant_ids":[40234256269414]},"available":true,"name":"Headway 10\" Glass on Glass Bubble Acrylic Bong - Black","public_title":"Black","options":["Black"],"price":2429,"weight":173,"compare_at_price":2699,"inventory_quantity":1,"inventory_management":"shopify","inventory_policy":"deny","barcode":"","featured_media":{"alt":"Headway 10\" Glass on Glass Bubble Acrylic Bong Black","id":21972663599206,"position":7,"preview_image":{"aspect_ratio":0.8,"height":1280,"width":1024,"src":"\/\/smokea.com\/cdn\/shop\/files\/headway-10-glass-on-glass-bubble-acrylic-bong-black-29693726851174.jpg?v=1695323023"}},"requires_selling_plan":false,"selling_plan_allocations":[],"quantity_rule":{"min":1,"max":null,"increment":1}},{"id":40234256302182,"title":"Blue","option1":"Blue","option2":null,"option3":null,"sku":"BUB10G-BL","requires_shipping":true,"taxable":true,"featured_image":{"id":29693727735910,"product_id":6875713273958,"position":6,"created_at":"2023-09-21T14:03:55-05:00","updated_at":"2023-09-21T14:03:55-05:00","alt":"Headway 10\" Glass on Glass Bubble Acrylic Bong Blue","width":1024,"height":1280,"src":"\/\/smokea.com\/cdn\/shop\/files\/headway-10-glass-on-glass-bubble-acrylic-bong-blue-29693726949478.jpg?v=1695323035","variant_ids":[40234256302182]},"available":true,"name":"Headway 10\" Glass on Glass Bubble Acrylic Bong - Blue","public_title":"Blue","options":["Blue"],"price":2429,"weight":173,"compare_at_price":2699,"inventory_quantity":5,"inventory_management":"shopify","inventory_policy":"deny","barcode":"","featured_media":{"alt":"Headway 10\" Glass on Glass Bubble Acrylic Bong Blue","id":21972663730278,"position":6,"preview_image":{"aspect_ratio":0.8,"height":1280,"width":1024,"src":"\/\/smokea.com\/cdn\/shop\/files\/headway-10-glass-on-glass-bubble-acrylic-bong-blue-29693726949478.jpg?v=1695323035"}},"requires_selling_plan":false,"selling_plan_allocations":[],"quantity_rule":{"min":1,"max":null,"increment":1}},{"id":40234256334950,"title":"Clear","option1":"Clear","option2":null,"option3":null,"sku":"BUB10G-CL","requires_shipping":true,"taxable":true,"featured_image":{"id":29693727768678,"product_id":6875713273958,"position":4,"created_at":"2023-09-21T14:03:58-05:00","updated_at":"2023-09-21T14:03:58-05:00","alt":"Headway 10\" Glass on Glass Bubble Acrylic Bong Clear","width":1024,"height":1280,"src":"\/\/smokea.com\/cdn\/shop\/files\/headway-10-glass-on-glass-bubble-acrylic-bong-clear-29693726916710.jpg?v=1695323038","variant_ids":[40234256334950]},"available":true,"name":"Headway 10\" Glass on Glass Bubble Acrylic Bong - Clear","public_title":"Clear","options":["Clear"],"price":2429,"weight":173,"compare_at_price":2699,"inventory_quantity":12,"inventory_management":"shopify","inventory_policy":"deny","barcode":"","featured_media":{"alt":"Headway 10\" Glass on Glass Bubble Acrylic Bong Clear","id":21972663763046,"position":4,"preview_image":{"aspect_ratio":0.8,"height":1280,"width":1024,"src":"\/\/smokea.com\/cdn\/shop\/files\/headway-10-glass-on-glass-bubble-acrylic-bong-clear-29693726916710.jpg?v=1695323038"}},"requires_selling_plan":false,"selling_plan_allocations":[],"quantity_rule":{"min":1,"max":null,"increment":1}},{"id":40234256367718,"title":"Green","option1":"Green","option2":null,"option3":null,"sku":"BUB10G-GN","requires_shipping":true,"taxable":true,"featured_image":{"id":29693727801446,"product_id":6875713273958,"position":5,"created_at":"2023-09-21T14:04:01-05:00","updated_at":"2023-09-21T14:04:01-05:00","alt":"Headway 10\" Glass on Glass Bubble Acrylic Bong","width":1024,"height":1280,"src":"\/\/smokea.com\/cdn\/shop\/files\/headway-10-glass-on-glass-bubble-acrylic-bong-green-29693727113318.jpg?v=1695323041","variant_ids":[40234256367718]},"available":true,"name":"Headway 10\" Glass on Glass Bubble Acrylic Bong - Green","public_title":"Green","options":["Green"],"price":2429,"weight":173,"compare_at_price":2699,"inventory_quantity":8,"inventory_management":"shopify","inventory_policy":"deny","barcode":"","featured_media":{"alt":"Headway 10\" Glass on Glass Bubble Acrylic Bong","id":21972663795814,"position":5,"preview_image":{"aspect_ratio":0.8,"height":1280,"width":1024,"src":"\/\/smokea.com\/cdn\/shop\/files\/headway-10-glass-on-glass-bubble-acrylic-bong-green-29693727113318.jpg?v=1695323041"}},"requires_selling_plan":false,"selling_plan_allocations":[],"quantity_rule":{"min":1,"max":null,"increment":1}},{"id":40234256400486,"title":"Purple","option1":"Purple","option2":null,"option3":null,"sku":"BUB10G-PR","requires_shipping":true,"taxable":true,"featured_image":{"id":29693727637606,"product_id":6875713273958,"position":1,"created_at":"2023-09-21T14:03:47-05:00","updated_at":"2023-09-21T14:03:47-05:00","alt":"Headway 10\" Glass on Glass Bubble Acrylic Bong","width":1024,"height":1280,"src":"\/\/smokea.com\/cdn\/shop\/files\/headway-10-glass-on-glass-bubble-acrylic-bong-29693726883942.jpg?v=1695323027","variant_ids":[40234256400486]},"available":true,"name":"Headway 10\" Glass on Glass Bubble Acrylic Bong - Purple","public_title":"Purple","options":["Purple"],"price":2429,"weight":173,"compare_at_price":2699,"inventory_quantity":2,"inventory_management":"shopify","inventory_policy":"deny","barcode":"","featured_media":{"alt":"Headway 10\" Glass on Glass Bubble Acrylic Bong","id":21972663631974,"position":1,"preview_image":{"aspect_ratio":0.8,"height":1280,"width":1024,"src":"\/\/smokea.com\/cdn\/shop\/files\/headway-10-glass-on-glass-bubble-acrylic-bong-29693726883942.jpg?v=1695323027"}},"requires_selling_plan":false,"selling_plan_allocations":[],"quantity_rule":{"min":1,"max":null,"increment":1}}],"images":["\/\/smokea.com\/cdn\/shop\/files\/headway-10-glass-on-glass-bubble-acrylic-bong-29693726883942.jpg?v=1695323027","\/\/smokea.com\/cdn\/shop\/files\/headway-10-glass-on-glass-bubble-acrylic-bong-29693726982246.jpg?v=1695323718","\/\/smokea.com\/cdn\/shop\/files\/headway-10-glass-on-glass-bubble-acrylic-bong-29693727047782.jpg?v=1695323718","\/\/smokea.com\/cdn\/shop\/files\/headway-10-glass-on-glass-bubble-acrylic-bong-clear-29693726916710.jpg?v=1695323038","\/\/smokea.com\/cdn\/shop\/files\/headway-10-glass-on-glass-bubble-acrylic-bong-green-29693727113318.jpg?v=1695323041","\/\/smokea.com\/cdn\/shop\/files\/headway-10-glass-on-glass-bubble-acrylic-bong-blue-29693726949478.jpg?v=1695323035","\/\/smokea.com\/cdn\/shop\/files\/headway-10-glass-on-glass-bubble-acrylic-bong-black-29693726851174.jpg?v=1695323023"],"featured_image":"\/\/smokea.com\/cdn\/shop\/files\/headway-10-glass-on-glass-bubble-acrylic-bong-29693726883942.jpg?v=1695323027","options":["Color"],"media":[{"alt":"Headway 10\" Glass on Glass Bubble Acrylic Bong","id":21972663631974,"position":1,"preview_image":{"aspect_ratio":0.8,"height":1280,"width":1024,"src":"\/\/smokea.com\/cdn\/shop\/files\/headway-10-glass-on-glass-bubble-acrylic-bong-29693726883942.jpg?v=1695323027"},"aspect_ratio":0.8,"height":1280,"media_type":"image","src":"\/\/smokea.com\/cdn\/shop\/files\/headway-10-glass-on-glass-bubble-acrylic-bong-29693726883942.jpg?v=1695323027","width":1024},{"alt":"Headway 10\" Glass on Glass Bubble Acrylic Bong","id":21972663697510,"position":2,"preview_image":{"aspect_ratio":0.8,"height":1280,"width":1024,"src":"\/\/smokea.com\/cdn\/shop\/files\/headway-10-glass-on-glass-bubble-acrylic-bong-29693726982246.jpg?v=1695323718"},"aspect_ratio":0.8,"height":1280,"media_type":"image","src":"\/\/smokea.com\/cdn\/shop\/files\/headway-10-glass-on-glass-bubble-acrylic-bong-29693726982246.jpg?v=1695323718","width":1024},{"alt":"Headway 10\" Glass on Glass Bubble Acrylic Bong","id":21972663664742,"position":3,"preview_image":{"aspect_ratio":0.8,"height":1280,"width":1024,"src":"\/\/smokea.com\/cdn\/shop\/files\/headway-10-glass-on-glass-bubble-acrylic-bong-29693727047782.jpg?v=1695323718"},"aspect_ratio":0.8,"height":1280,"media_type":"image","src":"\/\/smokea.com\/cdn\/shop\/files\/headway-10-glass-on-glass-bubble-acrylic-bong-29693727047782.jpg?v=1695323718","width":1024},{"alt":"Headway 10\" Glass on Glass Bubble Acrylic Bong Clear","id":21972663763046,"position":4,"preview_image":{"aspect_ratio":0.8,"height":1280,"width":1024,"src":"\/\/smokea.com\/cdn\/shop\/files\/headway-10-glass-on-glass-bubble-acrylic-bong-clear-29693726916710.jpg?v=1695323038"},"aspect_ratio":0.8,"height":1280,"media_type":"image","src":"\/\/smokea.com\/cdn\/shop\/files\/headway-10-glass-on-glass-bubble-acrylic-bong-clear-29693726916710.jpg?v=1695323038","width":1024},{"alt":"Headway 10\" Glass on Glass Bubble Acrylic Bong","id":21972663795814,"position":5,"preview_image":{"aspect_ratio":0.8,"height":1280,"width":1024,"src":"\/\/smokea.com\/cdn\/shop\/files\/headway-10-glass-on-glass-bubble-acrylic-bong-green-29693727113318.jpg?v=1695323041"},"aspect_ratio":0.8,"height":1280,"media_type":"image","src":"\/\/smokea.com\/cdn\/shop\/files\/headway-10-glass-on-glass-bubble-acrylic-bong-green-29693727113318.jpg?v=1695323041","width":1024},{"alt":"Headway 10\" Glass on Glass Bubble Acrylic Bong Blue","id":21972663730278,"position":6,"preview_image":{"aspect_ratio":0.8,"height":1280,"width":1024,"src":"\/\/smokea.com\/cdn\/shop\/files\/headway-10-glass-on-glass-bubble-acrylic-bong-blue-29693726949478.jpg?v=1695323035"},"aspect_ratio":0.8,"height":1280,"media_type":"image","src":"\/\/smokea.com\/cdn\/shop\/files\/headway-10-glass-on-glass-bubble-acrylic-bong-blue-29693726949478.jpg?v=1695323035","width":1024},{"alt":"Headway 10\" Glass on Glass Bubble Acrylic Bong Black","id":21972663599206,"position":7,"preview_image":{"aspect_ratio":0.8,"height":1280,"width":1024,"src":"\/\/smokea.com\/cdn\/shop\/files\/headway-10-glass-on-glass-bubble-acrylic-bong-black-29693726851174.jpg?v=1695323023"},"aspect_ratio":0.8,"height":1280,"media_type":"image","src":"\/\/smokea.com\/cdn\/shop\/files\/headway-10-glass-on-glass-bubble-acrylic-bong-black-29693726851174.jpg?v=1695323023","width":1024}],"requires_selling_plan":false,"selling_plan_groups":[],"content":"\u003cp\u003eThe world's best acrylic bongs, Headway Acrylics, are now available in glass on glass. While traditional acrylic bongs feature a metal 9mm slide, these upgraded bongs feature a glass downstem and 14mm dry herb bowl for a more enjoyable smoking experience.\u003c\/p\u003e\n\u003cp\u003eThis Headway Bubble Bong measures 10\" in height with a 2\" mouthpiece diameter. The traditional bubble style base holds plenty of water for better filtration and holds more smoke for larger hits. The Bubble Bong features a Headway decal so you can rest assured you're only using the best acrylic available. All parts disassemble for easy cleaning.\u003c\/p\u003e\n\u003cul\u003e\n\u003cli\u003eUpgraded Glass on Glass Downstem and Bowl\u003c\/li\u003e\n\u003cli\u003eHigh Quality Acrylic Construction\u003c\/li\u003e\n\u003cli\u003e14mm Dry Herb Bowl Included\u003c\/li\u003e\n\u003cli\u003eHeadway Decal\u003c\/li\u003e\n\u003cli\u003eRemovable Parts for Easy Cleaning\u003c\/li\u003e\n\u003cli\u003eMade in USA\u003c\/li\u003e\n\u003c\/ul\u003e\n\u003ctable\u003e\n\u003ctbody\u003e\n\u003ctr\u003e\n\u003ctd\u003eBrand\u003c\/td\u003e\n\u003ctd\u003e\u003ca href=\"\/collections\/headway\" target=\"_blank\" title=\"Headway Acrylic Bongs and Pipes\" rel=\"noopener noreferrer\"\u003eHeadway\u003c\/a\u003e\u003c\/td\u003e\n\u003c\/tr\u003e\n\u003ctr\u003e\n\u003ctd\u003eMaterial\u003c\/td\u003e\n\u003ctd\u003eAcrylic, Glass\u003c\/td\u003e\n\u003c\/tr\u003e\n\u003ctr\u003e\n\u003ctd\u003eHeight\u003c\/td\u003e\n\u003ctd\u003e10\"\u003c\/td\u003e\n\u003c\/tr\u003e\n\u003ctr\u003e\n\u003ctd\u003eBase Diameter\u003c\/td\u003e\n\u003ctd\u003e3.5\"\u003c\/td\u003e\n\u003c\/tr\u003e\n\u003ctr\u003e\n\u003ctd\u003eBowl Joint\u003c\/td\u003e\n\u003ctd\u003e14mm\u003c\/td\u003e\n\u003c\/tr\u003e\n\u003ctr\u003e\n\u003ctd\u003eDownstem Joint\u003c\/td\u003e\n\u003ctd\u003e18mm Male\/14mm Female\u003c\/td\u003e\n\u003c\/tr\u003e\n\u003ctr\u003e\n\u003ctd\u003eDownstem Length\u003c\/td\u003e\n\u003ctd\u003e4\"\u003c\/td\u003e\n\u003c\/tr\u003e\n\u003c\/tbody\u003e\n\u003c\/table\u003e\n\u003cp\u003eNOTE: Headway decal may vary.\u003c\/p\u003e"}
FAST AND FREE SHIPPING
LOW PRICE GUARANTEE
EASY, HASSLE FREE RETURNS
GET 10% BACK IN REWARDS
The world's best acrylic bongs, Headway Acrylics, are now available in glass on glass. While traditional acrylic bongs feature a metal 9mm slide, these upgraded bongs feature a glass downstem and 14mm dry herb bowl for a more enjoyable smoking experience.
This Headway Bubble Bong measures 10" in height with a 2" mouthpiece diameter. The traditional bubble style base holds plenty of water for better filtration and holds more smoke for larger hits. The Bubble Bong features a Headway decal so you can rest assured you're only using the best acrylic available. All parts disassemble for easy cleaning.
Upgraded Glass on Glass Downstem and Bowl
High Quality Acrylic Construction
14mm Dry Herb Bowl Included
Headway Decal
Removable Parts for Easy Cleaning
Made in USA
| | |
| --- | --- |
| Brand | Headway |
| Material | Acrylic, Glass |
| Height | 10" |
| Base Diameter | 3.5" |
| Bowl Joint | 14mm |
| Downstem Joint | 18mm Male/14mm Female |
| Downstem Length | 4" |
NOTE: Headway decal may vary.
SMOKEA® proudly offers free shipping on orders to the contiguous 48 states. Packages are shipping via USPS, FedEx, UPS or DHL Express. Orders with Free Shipping can expect delivery times of 3-16 business days. Orders that pay for expedited shipping have an average shipping time of only 2-3 business days! Click here to read our full Shipping Policy.
Low Price Guarantees. While most company's have long lists of things you need to qualify to have a price matched, SMOKEA® makes it easy. Oh yeah, and we don't "match" prices we BEAT prices! Simply contact us with the information including the competitor's product listing and we'll create a coupon code for you to use to get a BETTER price. The Guarantee doesn't end when you receive a better price. If any of your ordered products drop in price within the return/exchange period, you will be given the difference in store credit upon request. The Low Price Guarantee is just another way that SMOKEA provides it's customers with the ease and convenience of getting all of your smoking supplies in one place at the best prices! Click here to read more about our low price guarantee or click the "Start Here" button below to get started.
Start Here
We hope that you will be delighted with your items however, if you would like to return your items for any reason at all, you may do so within 30 days of receiving your order. Items returned must be in a new and unused condition and are the responsibility of the customer until they are received by SMOKEA.
Click Here to Read Our Full Return Policy
Customer Reviews
Write a Review
Ask a Question
Filter Reviews:
Loctite Fun tak
gaps
inhale
simplicity
acrylic
water pipe
design
bowls
10/28/2023
Brett B.

United States
I recommend this product
Very nice piece.
I really like the design and simplicity, however where the stem goes into the water pipe because it is glass on acrylic. Sometimes you get gaps where air can escape. I remedy this with a little bit of Loctite Fun tak. Nontoxic, but great way to fill in those gaps to get a full hit.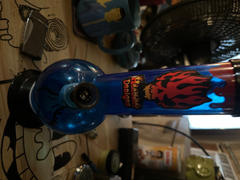 10/11/2023
Anonymous

United States
I recommend this product
Fab
This is dimensionally perfect for my typical inhale. I love it. Always helps to have one or two spare bowls, though.0