{"id":9187067777,"title":"SMOKEA Cigar Splitter Keychain","handle":"smokea-cigar-splitter-keychain","description":"\u003cp\u003eIt's never been easier to get a perfect split on a cigar. The SMOKEA Cigar Splitter is a handy tool for splitting cigars and emptying tobacco. Just run your cigar or cigarillo through the splitter and the sharp stainless steel cutting blade will perfectly split the cigar for easy emptying of tobacco. Fill your own tobacco with any wrap, any time. Features a convenient chain to easily carry with you where ever you go.\u003c\/p\u003e\n\u003cul\u003e\n\u003cli\u003eDurable Plastic Construction\u003c\/li\u003e\n\u003cli\u003eSharp Stainless Steel Cutting Blade\u003c\/li\u003e\n\u003cli\u003eConvenient Keychain\u003c\/li\u003e\n\u003cli\u003eAvailable in Several Colors\u003c\/li\u003e\n\u003c\/ul\u003e","published_at":"2017-04-14T13:55:39-05:00","created_at":"2017-04-14T14:04:37-05:00","vendor":"SMOKEA®","type":"Everything Else","tags":["Brand_SMOKEA®","Clearance","Color_Black","Color_Green","Color_Red","deal","Lifestyle","Material_Plastic","Parts \u0026 Accessories","Price_Under $10","Product Type_Everything Else","retail","Vendor_Ooze","w50","wholesale"],"price":199,"price_min":199,"price_max":199,"available":true,"price_varies":false,"compare_at_price":400,"compare_at_price_min":400,"compare_at_price_max":400,"compare_at_price_varies":false,"variants":[{"id":33063616193,"title":"Black","option1":"Black","option2":null,"option3":null,"sku":"EZSPLIT-BK","requires_shipping":true,"taxable":true,"featured_image":{"id":13595796963430,"product_id":9187067777,"position":5,"created_at":"2019-12-07T20:46:55-06:00","updated_at":"2022-01-18T15:41:37-06:00","alt":"SMOKEA Cigar Splitter Keychain - SMOKEA®","width":1024,"height":1280,"src":"\/\/smokea.com\/cdn\/shop\/products\/smokea-cigar-splitter-keychain-black-537330483230.jpg?v=1642542097","variant_ids":[33063616193]},"available":false,"name":"SMOKEA Cigar Splitter Keychain - Black","public_title":"Black","options":["Black"],"price":199,"weight":6,"compare_at_price":400,"inventory_quantity":0,"inventory_management":"shopify","inventory_policy":"deny","barcode":"","featured_media":{"alt":"SMOKEA Cigar Splitter Keychain - SMOKEA®","id":5770596286566,"position":5,"preview_image":{"aspect_ratio":0.8,"height":1280,"width":1024,"src":"\/\/smokea.com\/cdn\/shop\/products\/smokea-cigar-splitter-keychain-black-537330483230.jpg?v=1642542097"}},"requires_selling_plan":false,"selling_plan_allocations":[],"quantity_rule":{"min":1,"max":null,"increment":1}},{"id":12388140056678,"title":"Blue","option1":"Blue","option2":null,"option3":null,"sku":"EZSPLIT-BL","requires_shipping":true,"taxable":true,"featured_image":{"id":13600957825126,"product_id":9187067777,"position":6,"created_at":"2019-12-08T18:02:17-06:00","updated_at":"2022-01-18T18:31:20-06:00","alt":"SMOKEA Cigar Splitter Keychain - SMOKEA®","width":1024,"height":1280,"src":"\/\/smokea.com\/cdn\/shop\/products\/smokea-cigar-splitter-keychain-blue-3660481790054.jpg?v=1642552280","variant_ids":[12388140056678]},"available":true,"name":"SMOKEA Cigar Splitter Keychain - Blue","public_title":"Blue","options":["Blue"],"price":199,"weight":6,"compare_at_price":400,"inventory_quantity":93,"inventory_management":"shopify","inventory_policy":"deny","barcode":"","featured_media":{"alt":"SMOKEA Cigar Splitter Keychain - SMOKEA®","id":5775757148262,"position":6,"preview_image":{"aspect_ratio":0.8,"height":1280,"width":1024,"src":"\/\/smokea.com\/cdn\/shop\/products\/smokea-cigar-splitter-keychain-blue-3660481790054.jpg?v=1642552280"}},"requires_selling_plan":false,"selling_plan_allocations":[],"quantity_rule":{"min":1,"max":null,"increment":1}},{"id":27940688396390,"title":"Brown","option1":"Brown","option2":null,"option3":null,"sku":"EZSPLIT-BN","requires_shipping":true,"taxable":true,"featured_image":{"id":13580157419622,"product_id":9187067777,"position":7,"created_at":"2019-12-05T01:51:58-06:00","updated_at":"2022-01-18T23:04:03-06:00","alt":"SMOKEA Cigar Splitter Keychain - SMOKEA®","width":1024,"height":1280,"src":"\/\/smokea.com\/cdn\/shop\/products\/smokea-cigar-splitter-keychain-brown-10990060699750.jpg?v=1642568643","variant_ids":[27940688396390]},"available":false,"name":"SMOKEA Cigar Splitter Keychain - Brown","public_title":"Brown","options":["Brown"],"price":199,"weight":6,"compare_at_price":400,"inventory_quantity":0,"inventory_management":"shopify","inventory_policy":"deny","barcode":"","featured_media":{"alt":"SMOKEA Cigar Splitter Keychain - SMOKEA®","id":5754956709990,"position":7,"preview_image":{"aspect_ratio":0.8,"height":1280,"width":1024,"src":"\/\/smokea.com\/cdn\/shop\/products\/smokea-cigar-splitter-keychain-brown-10990060699750.jpg?v=1642568643"}},"requires_selling_plan":false,"selling_plan_allocations":[],"quantity_rule":{"min":1,"max":null,"increment":1}},{"id":27940690493542,"title":"Clear","option1":"Clear","option2":null,"option3":null,"sku":"EZSPLIT-CL","requires_shipping":true,"taxable":true,"featured_image":{"id":13580147392614,"product_id":9187067777,"position":8,"created_at":"2019-12-05T01:50:13-06:00","updated_at":"2022-01-19T04:59:37-06:00","alt":"SMOKEA Cigar Splitter Keychain - SMOKEA®","width":1024,"height":1280,"src":"\/\/smokea.com\/cdn\/shop\/products\/smokea-cigar-splitter-keychain-clear-10990060830822.jpg?v=1642589977","variant_ids":[27940690493542]},"available":false,"name":"SMOKEA Cigar Splitter Keychain - Clear","public_title":"Clear","options":["Clear"],"price":199,"weight":6,"compare_at_price":400,"inventory_quantity":0,"inventory_management":"shopify","inventory_policy":"deny","barcode":"","featured_media":{"alt":"SMOKEA Cigar Splitter Keychain - SMOKEA®","id":5754946682982,"position":8,"preview_image":{"aspect_ratio":0.8,"height":1280,"width":1024,"src":"\/\/smokea.com\/cdn\/shop\/products\/smokea-cigar-splitter-keychain-clear-10990060830822.jpg?v=1642589977"}},"requires_selling_plan":false,"selling_plan_allocations":[],"quantity_rule":{"min":1,"max":null,"increment":1}},{"id":33063616257,"title":"Green","option1":"Green","option2":null,"option3":null,"sku":"EZSPLIT-GN","requires_shipping":true,"taxable":true,"featured_image":{"id":13588498514022,"product_id":9187067777,"position":4,"created_at":"2019-12-06T12:06:15-06:00","updated_at":"2022-01-19T00:06:20-06:00","alt":"SMOKEA Cigar Splitter Keychain - SMOKEA®","width":1024,"height":1280,"src":"\/\/smokea.com\/cdn\/shop\/products\/smokea-cigar-splitter-keychain-green-537328484382.jpg?v=1642572380","variant_ids":[33063616257]},"available":false,"name":"SMOKEA Cigar Splitter Keychain - Green","public_title":"Green","options":["Green"],"price":199,"weight":6,"compare_at_price":400,"inventory_quantity":0,"inventory_management":"shopify","inventory_policy":"deny","barcode":"","featured_media":{"alt":"SMOKEA Cigar Splitter Keychain - SMOKEA®","id":5763297804390,"position":4,"preview_image":{"aspect_ratio":0.8,"height":1280,"width":1024,"src":"\/\/smokea.com\/cdn\/shop\/products\/smokea-cigar-splitter-keychain-green-537328484382.jpg?v=1642572380"}},"requires_selling_plan":false,"selling_plan_allocations":[],"quantity_rule":{"min":1,"max":null,"increment":1}},{"id":27940691116134,"title":"Pink","option1":"Pink","option2":null,"option3":null,"sku":"EZSPLIT-PK","requires_shipping":true,"taxable":true,"featured_image":{"id":13580148703334,"product_id":9187067777,"position":9,"created_at":"2019-12-05T01:50:30-06:00","updated_at":"2022-01-19T04:58:36-06:00","alt":"SMOKEA Cigar Splitter Keychain - SMOKEA®","width":1024,"height":1280,"src":"\/\/smokea.com\/cdn\/shop\/products\/smokea-cigar-splitter-keychain-pink-10990060961894.jpg?v=1642589916","variant_ids":[27940691116134]},"available":false,"name":"SMOKEA Cigar Splitter Keychain - Pink","public_title":"Pink","options":["Pink"],"price":199,"weight":6,"compare_at_price":400,"inventory_quantity":0,"inventory_management":"shopify","inventory_policy":"deny","barcode":"","featured_media":{"alt":"SMOKEA Cigar Splitter Keychain - SMOKEA®","id":5754947993702,"position":9,"preview_image":{"aspect_ratio":0.8,"height":1280,"width":1024,"src":"\/\/smokea.com\/cdn\/shop\/products\/smokea-cigar-splitter-keychain-pink-10990060961894.jpg?v=1642589916"}},"requires_selling_plan":false,"selling_plan_allocations":[],"quantity_rule":{"min":1,"max":null,"increment":1}},{"id":33063616321,"title":"Red","option1":"Red","option2":null,"option3":null,"sku":"EZSPLIT-RD","requires_shipping":true,"taxable":true,"featured_image":{"id":13595798405222,"product_id":9187067777,"position":3,"created_at":"2019-12-07T20:47:13-06:00","updated_at":"2022-01-18T15:42:20-06:00","alt":"SMOKEA Cigar Splitter Keychain - SMOKEA®","width":1024,"height":1280,"src":"\/\/smokea.com\/cdn\/shop\/products\/smokea-cigar-splitter-keychain-red-537327796254.jpg?v=1642542140","variant_ids":[33063616321]},"available":true,"name":"SMOKEA Cigar Splitter Keychain - Red","public_title":"Red","options":["Red"],"price":199,"weight":6,"compare_at_price":400,"inventory_quantity":39,"inventory_management":"shopify","inventory_policy":"deny","barcode":"","featured_media":{"alt":"SMOKEA Cigar Splitter Keychain - SMOKEA®","id":5770597728358,"position":3,"preview_image":{"aspect_ratio":0.8,"height":1280,"width":1024,"src":"\/\/smokea.com\/cdn\/shop\/products\/smokea-cigar-splitter-keychain-red-537327796254.jpg?v=1642542140"}},"requires_selling_plan":false,"selling_plan_allocations":[],"quantity_rule":{"min":1,"max":null,"increment":1}}],"images":["\/\/smokea.com\/cdn\/shop\/products\/smokea-cigar-splitter-keychain-537325535262.jpg?v=1642572036","\/\/smokea.com\/cdn\/shop\/products\/smokea-cigar-splitter-keychain-537325961246.jpg?v=1642572080","\/\/smokea.com\/cdn\/shop\/products\/smokea-cigar-splitter-keychain-red-537327796254.jpg?v=1642542140","\/\/smokea.com\/cdn\/shop\/products\/smokea-cigar-splitter-keychain-green-537328484382.jpg?v=1642572380","\/\/smokea.com\/cdn\/shop\/products\/smokea-cigar-splitter-keychain-black-537330483230.jpg?v=1642542097","\/\/smokea.com\/cdn\/shop\/products\/smokea-cigar-splitter-keychain-blue-3660481790054.jpg?v=1642552280","\/\/smokea.com\/cdn\/shop\/products\/smokea-cigar-splitter-keychain-brown-10990060699750.jpg?v=1642568643","\/\/smokea.com\/cdn\/shop\/products\/smokea-cigar-splitter-keychain-clear-10990060830822.jpg?v=1642589977","\/\/smokea.com\/cdn\/shop\/products\/smokea-cigar-splitter-keychain-pink-10990060961894.jpg?v=1642589916"],"featured_image":"\/\/smokea.com\/cdn\/shop\/products\/smokea-cigar-splitter-keychain-537325535262.jpg?v=1642572036","options":["Color"],"media":[{"alt":"SMOKEA Cigar Splitter Keychain - SMOKEA®","id":5763505586278,"position":1,"preview_image":{"aspect_ratio":0.8,"height":1280,"width":1024,"src":"\/\/smokea.com\/cdn\/shop\/products\/smokea-cigar-splitter-keychain-537325535262.jpg?v=1642572036"},"aspect_ratio":0.8,"height":1280,"media_type":"image","src":"\/\/smokea.com\/cdn\/shop\/products\/smokea-cigar-splitter-keychain-537325535262.jpg?v=1642572036","width":1024},{"alt":"SMOKEA Cigar Splitter Keychain - SMOKEA®","id":5763497427046,"position":2,"preview_image":{"aspect_ratio":0.8,"height":1280,"width":1024,"src":"\/\/smokea.com\/cdn\/shop\/products\/smokea-cigar-splitter-keychain-537325961246.jpg?v=1642572080"},"aspect_ratio":0.8,"height":1280,"media_type":"image","src":"\/\/smokea.com\/cdn\/shop\/products\/smokea-cigar-splitter-keychain-537325961246.jpg?v=1642572080","width":1024},{"alt":"SMOKEA Cigar Splitter Keychain - SMOKEA®","id":5770597728358,"position":3,"preview_image":{"aspect_ratio":0.8,"height":1280,"width":1024,"src":"\/\/smokea.com\/cdn\/shop\/products\/smokea-cigar-splitter-keychain-red-537327796254.jpg?v=1642542140"},"aspect_ratio":0.8,"height":1280,"media_type":"image","src":"\/\/smokea.com\/cdn\/shop\/products\/smokea-cigar-splitter-keychain-red-537327796254.jpg?v=1642542140","width":1024},{"alt":"SMOKEA Cigar Splitter Keychain - SMOKEA®","id":5763297804390,"position":4,"preview_image":{"aspect_ratio":0.8,"height":1280,"width":1024,"src":"\/\/smokea.com\/cdn\/shop\/products\/smokea-cigar-splitter-keychain-green-537328484382.jpg?v=1642572380"},"aspect_ratio":0.8,"height":1280,"media_type":"image","src":"\/\/smokea.com\/cdn\/shop\/products\/smokea-cigar-splitter-keychain-green-537328484382.jpg?v=1642572380","width":1024},{"alt":"SMOKEA Cigar Splitter Keychain - SMOKEA®","id":5770596286566,"position":5,"preview_image":{"aspect_ratio":0.8,"height":1280,"width":1024,"src":"\/\/smokea.com\/cdn\/shop\/products\/smokea-cigar-splitter-keychain-black-537330483230.jpg?v=1642542097"},"aspect_ratio":0.8,"height":1280,"media_type":"image","src":"\/\/smokea.com\/cdn\/shop\/products\/smokea-cigar-splitter-keychain-black-537330483230.jpg?v=1642542097","width":1024},{"alt":"SMOKEA Cigar Splitter Keychain - SMOKEA®","id":5775757148262,"position":6,"preview_image":{"aspect_ratio":0.8,"height":1280,"width":1024,"src":"\/\/smokea.com\/cdn\/shop\/products\/smokea-cigar-splitter-keychain-blue-3660481790054.jpg?v=1642552280"},"aspect_ratio":0.8,"height":1280,"media_type":"image","src":"\/\/smokea.com\/cdn\/shop\/products\/smokea-cigar-splitter-keychain-blue-3660481790054.jpg?v=1642552280","width":1024},{"alt":"SMOKEA Cigar Splitter Keychain - SMOKEA®","id":5754956709990,"position":7,"preview_image":{"aspect_ratio":0.8,"height":1280,"width":1024,"src":"\/\/smokea.com\/cdn\/shop\/products\/smokea-cigar-splitter-keychain-brown-10990060699750.jpg?v=1642568643"},"aspect_ratio":0.8,"height":1280,"media_type":"image","src":"\/\/smokea.com\/cdn\/shop\/products\/smokea-cigar-splitter-keychain-brown-10990060699750.jpg?v=1642568643","width":1024},{"alt":"SMOKEA Cigar Splitter Keychain - SMOKEA®","id":5754946682982,"position":8,"preview_image":{"aspect_ratio":0.8,"height":1280,"width":1024,"src":"\/\/smokea.com\/cdn\/shop\/products\/smokea-cigar-splitter-keychain-clear-10990060830822.jpg?v=1642589977"},"aspect_ratio":0.8,"height":1280,"media_type":"image","src":"\/\/smokea.com\/cdn\/shop\/products\/smokea-cigar-splitter-keychain-clear-10990060830822.jpg?v=1642589977","width":1024},{"alt":"SMOKEA Cigar Splitter Keychain - SMOKEA®","id":5754947993702,"position":9,"preview_image":{"aspect_ratio":0.8,"height":1280,"width":1024,"src":"\/\/smokea.com\/cdn\/shop\/products\/smokea-cigar-splitter-keychain-pink-10990060961894.jpg?v=1642589916"},"aspect_ratio":0.8,"height":1280,"media_type":"image","src":"\/\/smokea.com\/cdn\/shop\/products\/smokea-cigar-splitter-keychain-pink-10990060961894.jpg?v=1642589916","width":1024}],"requires_selling_plan":false,"selling_plan_groups":[],"content":"\u003cp\u003eIt's never been easier to get a perfect split on a cigar. The SMOKEA Cigar Splitter is a handy tool for splitting cigars and emptying tobacco. Just run your cigar or cigarillo through the splitter and the sharp stainless steel cutting blade will perfectly split the cigar for easy emptying of tobacco. Fill your own tobacco with any wrap, any time. Features a convenient chain to easily carry with you where ever you go.\u003c\/p\u003e\n\u003cul\u003e\n\u003cli\u003eDurable Plastic Construction\u003c\/li\u003e\n\u003cli\u003eSharp Stainless Steel Cutting Blade\u003c\/li\u003e\n\u003cli\u003eConvenient Keychain\u003c\/li\u003e\n\u003cli\u003eAvailable in Several Colors\u003c\/li\u003e\n\u003c\/ul\u003e"}
FAST AND FREE SHIPPING
LOW PRICE GUARANTEE
EASY, HASSLE FREE RETURNS
GET 10% BACK IN REWARDS
It's never been easier to get a perfect split on a cigar. The SMOKEA Cigar Splitter is a handy tool for splitting cigars and emptying tobacco. Just run your cigar or cigarillo through the splitter and the sharp stainless steel cutting blade will perfectly split the cigar for easy emptying of tobacco. Fill your own tobacco with any wrap, any time. Features a convenient chain to easily carry with you where ever you go.
Durable Plastic Construction
Sharp Stainless Steel Cutting Blade
Convenient Keychain
Available in Several Colors
SMOKEA® proudly offers free shipping on orders to the contiguous 48 states. Packages are shipping via USPS, FedEx, UPS or DHL Express. Orders with Free Shipping can expect delivery times of 3-16 business days. Orders that pay for expedited shipping have an average shipping time of only 2-3 business days! Click here to read our full Shipping Policy.
Low Price Guarantees. While most company's have long lists of things you need to qualify to have a price matched, SMOKEA® makes it easy. Oh yeah, and we don't "match" prices we BEAT prices! Simply contact us with the information including the competitor's product listing and we'll create a coupon code for you to use to get a BETTER price. The Guarantee doesn't end when you receive a better price. If any of your ordered products drop in price within the return/exchange period, you will be given the difference in store credit upon request. The Low Price Guarantee is just another way that SMOKEA provides it's customers with the ease and convenience of getting all of your smoking supplies in one place at the best prices! Click here to read more about our low price guarantee or click the "Start Here" button below to get started.
Start Here
We hope that you will be delighted with your items however, if you would like to return your items for any reason at all, you may do so within 30 days of receiving your order. Items returned must be in a new and unused condition and are the responsibility of the customer until they are received by SMOKEA.
Click Here to Read Our Full Return Policy
Customer Reviews
Write a Review
Ask a Question
04/27/2021
Anonymous

United States
I recommend this product
Easy and useful
It was awesome and quick
07/18/2020
Amber P.

United States
I recommend this product
Splitter pink
So Sturdy great product! Color is soo cute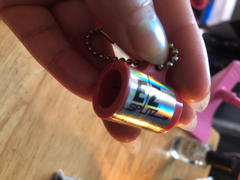 07/18/2020
Amber P.

United States
I recommend this product
Black splitter
Nice does job well good price